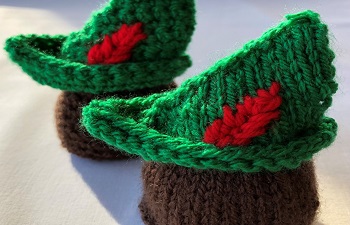 Knittinghamshire
This year we've joined the RSPB at Sherwood Forest and Inspire to support Nottinghamshire crafters to take part in The Innocent Big Knit and raise money for Age UK.
Juliet Bernard, hand knitting guru, and designer and former editor of The Knitter Magazine designed a miniature Robin Hood hat for Notts crafters to knit and crochet!
These hats will be collected and become part of a touring exhibition throughout the summer of 2021 before being donated to Innocent Drinks where they will adorn the lids of their smoothie bottles in 2022 and donate 25p to Age UK for every bottle sold.
Visit the Inspire Charity Knitting Challenge to find out more about the project and see their online Knittinghamshire exhibition.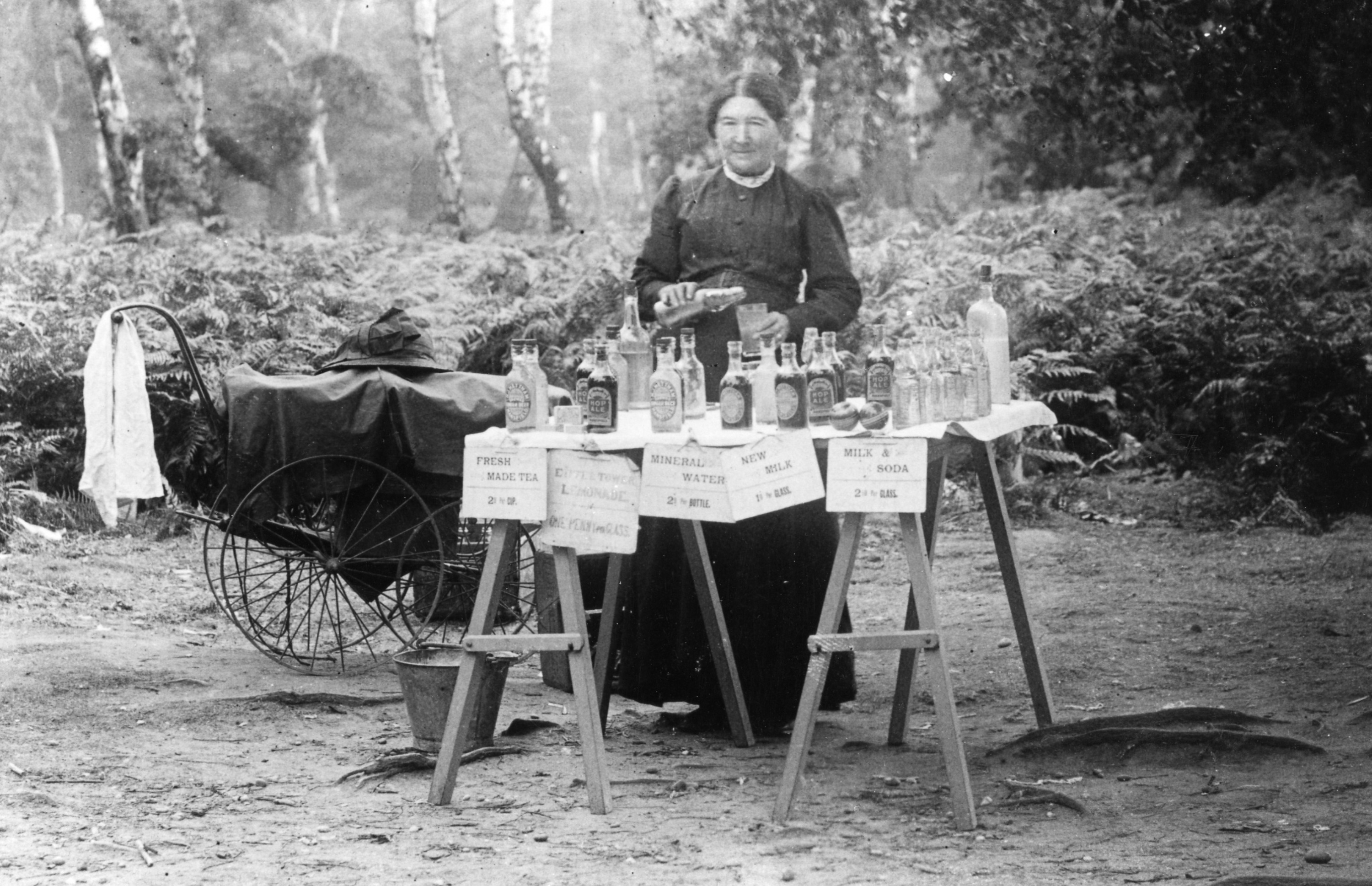 Poetry Place
Working with Inspire we created a series of two-part poetry workshops, using fascinating archive photography, from Nottinghamshire Archives, featuring the people, landscapes and stories of the area as a starting point for participants own poetry.
Under the guidance of acclaimed poet and educator Sue Dymoke, aspiring poets were encouraged to create their own imaginative responses to the images; exploring different ways of responding to sources of inspiration.
A selection of the work produced will be included in both a library touring, and an online, exhibition launching in late 2021.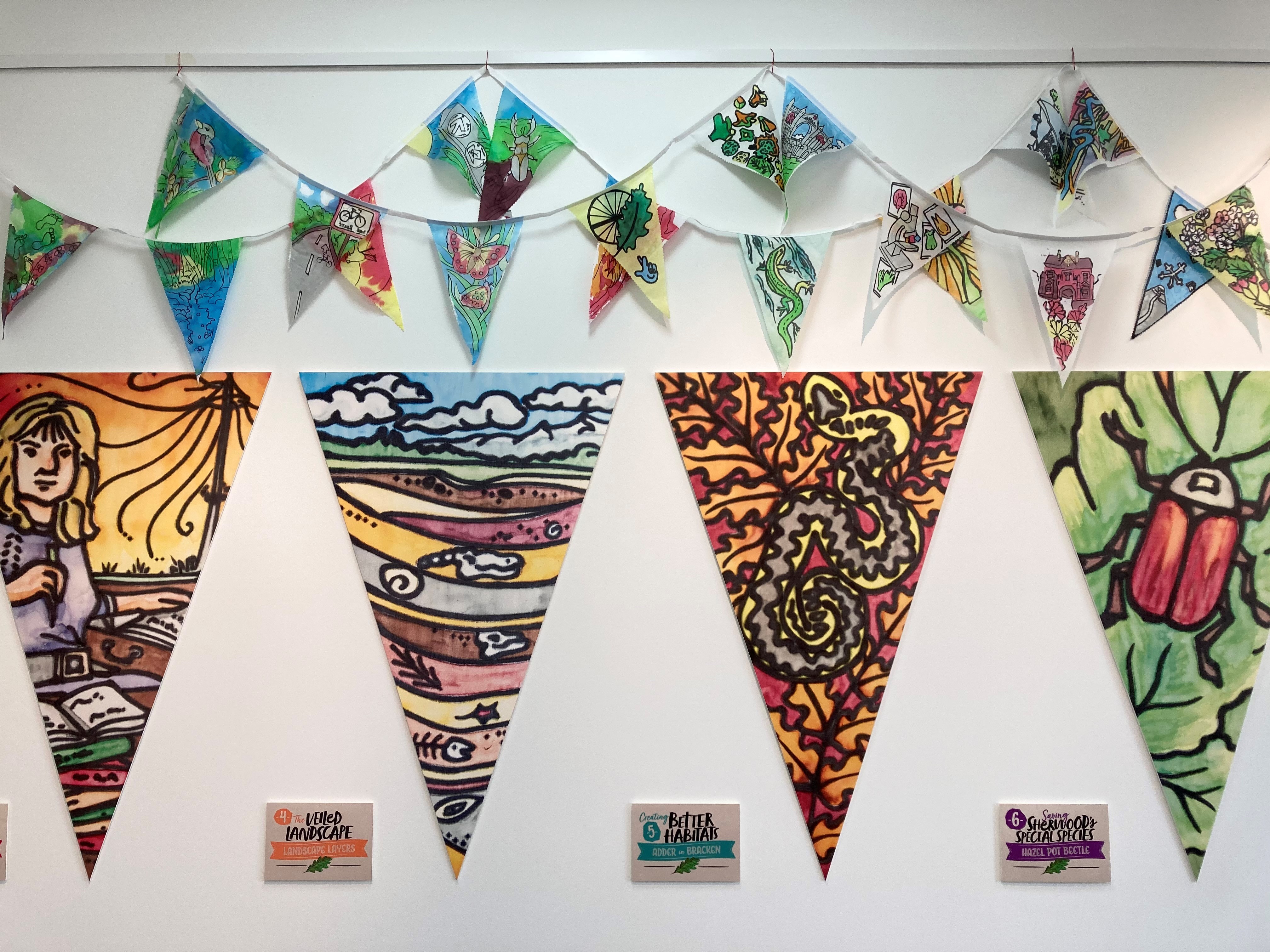 The Big Draw 2020
Throughout 2020/2021 we worked with Inspire to join a worldwide celebration of drawing in the annual Big Draw Festival. The Festival is made up of a collection of thousands of creative events, activities and workshops across the globe run by organisations big and small; from individuals to entire cities!
The 2020 theme of the festival was 'A Climate of Change – The Big Green Draw'.
In spring/summer 2020, we worked with local groups across the Miner2Major area to collectively create 200 metres of festival bunting, where every triangle was a hand-painted artwork to celebrate the diverse wildlife, important habitats and rich heritage of Sherwood Forest.
Artist Jess Kemp created a video tutorial and a set of printed 'How To' instructions, which were issued to the participating groups, along with a kit of all the materials and equipment.
By October 2020 the bunting was complete and began its journey on a travelling exhibition of Inspire libraries across the county, due to complete in July 2021. From then onwards the bunting will be used at festivals across the Miner2Major area alongside our travelling exhibition
If you don't get chance to see the bunting in one of the exhibition locations don't worry, Inspire have created an online version so you can see some of the amazing designs created.
Visit Inspire's Virtual Exhibition- The Big Draw 2020: A Climate of Change on Inspire Culture website.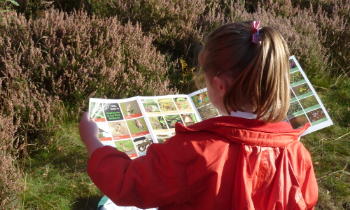 Activity Sheets
Working with Inspire we've created a selection of activity sheets inspired by the rich heritage of Sherwood Forest designed for the whole family to have a go at. The activities include making a bug hotel or hazel pot beetle, exploring historical mapping and creating family trees.
View all of the Sherwood Forest activity sheets on the Inspire website.