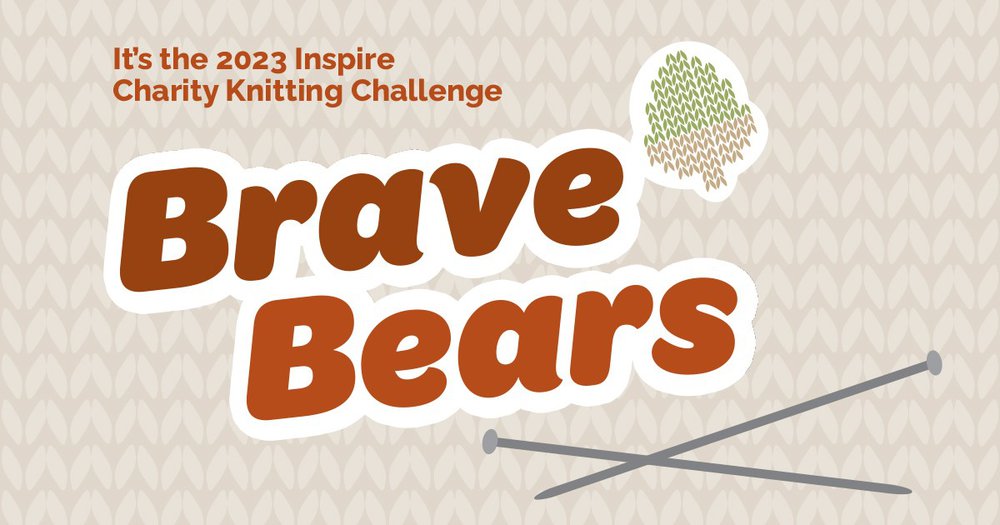 Miner2Major launches 2023 Knitting Challenge!
The Miner2Major Landscape Partnership Scheme, Inspire, Nottinghamshire Police, Newark and Sherwood District Council and Creative Lives are supporting Nottinghamshire crafters to make Brave Bears for charities working with children in times of need.
We're working with local textile designer Megan Crook, who has designed Brave Bear knitting and crochet patterns, decorated with a special Sherwood Forest acorn motif.
At the end of the exhibition the Brave Bears will be distributed to charities working with children in times of need by Nottinghamshire Police. 
Find out more and download the Brave Bear knitting patterns here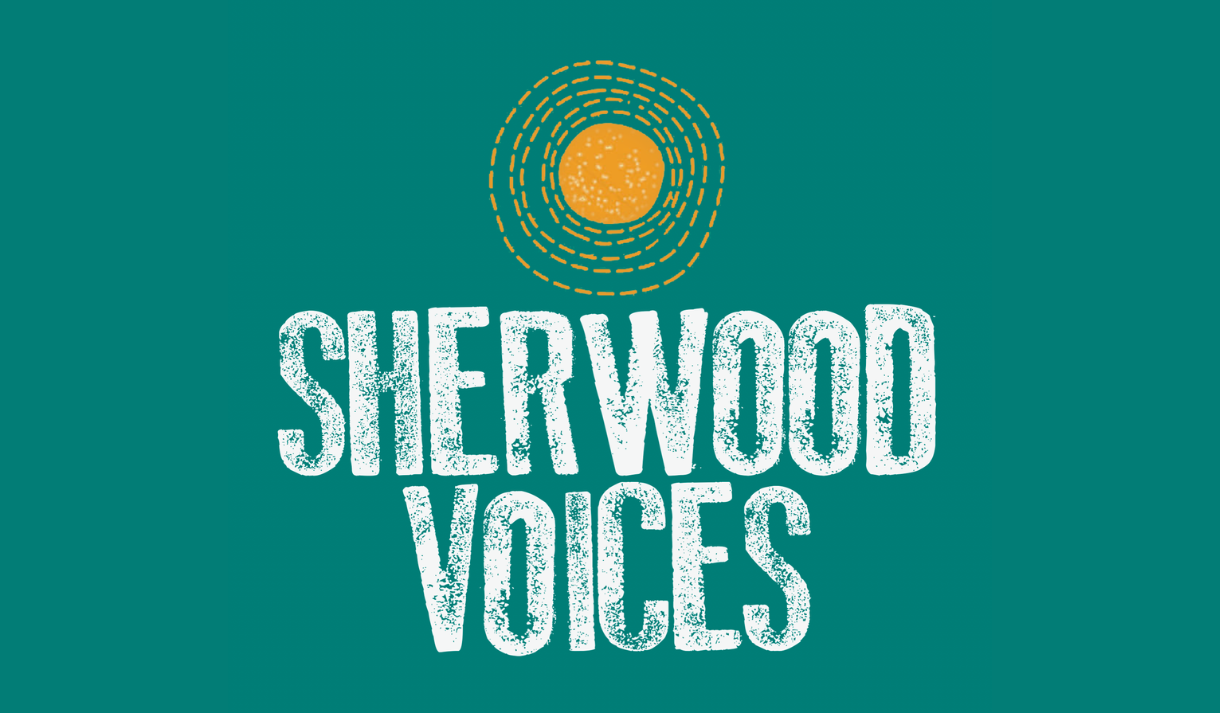 Step into Sherwood Voices this Spring
A new audio walking experience voiced by Nottinghamshire residents will take you on a journey through the stories and culture of the Sherwood Forest area. 
Residents and visitors to Nottinghamshire can step into Sherwood Voices, a series of six audio walks written and directed by Excavate's Andy Barrett, and led by Sherwood people, who invite listeners to take an audio-guided tour of Robin Hood country.
Episodes feature personal stories, experiences, and points of view from people who live in the Sherwood Forest area to inspire people to visit and explore the heart of Nottinghamshire.
The towns and villages of the Sherwood Forest region are full of diverse wildlife, important habitats, fascinating people, and a rich heritage of stories. 
The walks have been created through hours of conversation with people from across the Sherwood Forest area. Alongside storytellers, listeners will hear from shepherds, anglers, undertakers, park rangers, vicars, schoolchildren, and many others. 
Sherwood Voices is led by Excavate and supported by Inspire, Miner2Major, The National Lottery Heritage Fund and Arts Council England.
Soil Stripping at Rainworth Heath
As part of the Better Habitats project the Nottinghamshire Wildlife Trust have begun work to restore Rainworth Heath nature reserve to heathland. The Trust have struggled due to the level of nutrient enrichment in the soils. The soil has been stripped from the site ready for the next phase of re-seeding, after careful checks for breeding birds and reptiles. Now that the soils have been stripped the Trust is preparing to sow an acid grassland seed mix which will act as a nurse crop for heather over the next couple of years.
You can read more about the soil stripping at Rainworth Heath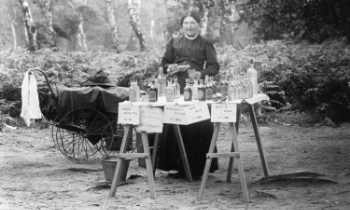 Century of Change
The team have been working on procurement for a consultant to deliver the ambitious Century of Change project. This project will explore the period of 1850-1950 with 15 primary schools from across the Miner2Major area. The project will work with local history and community groups to provide an intergenerational response to the landscape change that occurred in this time period.
The team are pleased to announce that Innovate Educate Ltd have been appointed to deliver the project. We are looking forward to working with them over the next three years.
Read more about the Century of Change project.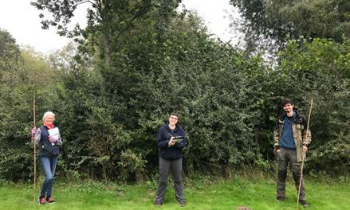 Trees and Hedges
We have finally been able to deliver some socially distanced outdoor training on hedgerow surveys. The first session took place with 3 participants at Rufford on the 7th September and a second course took place on the 16th.  The participants were trained on how to conduct the "Great British Hedgerow Survey" which is managed by the Peoples Trust for Endangered Species (PTES) with some adaptation to also record significant hedgerow trees. As well as providing us with important local information, we will also be contributing to their national database. The participants left the day feeling confident to undertake surveys on our behalf on private land.
Lesley Sharpe, Farmed Environment Adviser has also come on board. Lesley already works with lots of landowners in the area and manages the Guardians of Sherwood project. She has been busy making initial contact with landowners and we are extremely pleased that we already have 5 who would like us to complete a hedgerow survey on their land.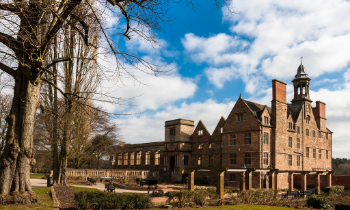 People of Sherwood: Gertrude Savile
Covid-19 has affected many things, including the delivery of People of Sherwood. The planned projects have been delayed due to an inability to work face to face with people. However, the Miner2Major Heritage Engagement officer, Rachel, has worked with Blue Kazoo, a local education company, to create a short film. Blue Kazoo have produced a film introducing the character of Gertrude Savile. The film explores Gertrude's life and her position in eighteenth century England.
The film has been shared on Miner2Major's social media channels, as well as on the Miner2Major website. It will also be used as a starting point for the larger interpretation of Gertrude Savile.
You can find out more about the characters being researched as part of People of Sherwood and watch the film about Gertrude Savile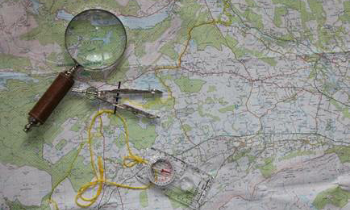 Online Learning!
Inspire learning has worked hard behind the scenes to develop an online learning offer from scratch.  Inspire have been able to offer a summer programme of three courses:
Map reading made easy
Acrylic Painting for All - Sherwood Forest Landscapes
Nottinghamshire's Literary Locations
The courses were run on Zoom by a tutor. As Inspire had not run online learning before, the number of spaces were lower than in a face to face course.
The courses were popular, and the audiences engaged well with the learning content.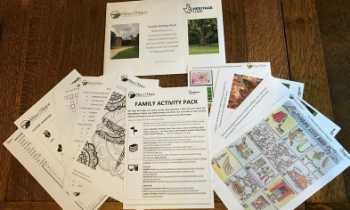 Miner2Major Activity Packs
Since the beginning of lockdown, the team have been posting ideas on the Miner2Major social media channels for people to try at home. Initially we posted a suggestion every day of the week, since the relaxations at the beginning of July this has been reduced to three suggestions a week. The activities have ranged from learning how to knit, Sherwood Forest word searches and crosswords as well as suggesting themes for socially distanced walks.
As a result of this the team created some activity packs that have been distributed to families through the Social Action Hub in Rainworth as well as a Primary School in Rainworth. The packs contained some of the same activities we had been suggesting on social media.
Inspire have also digitised some of the activities and put them on their website for more people to be able to access them.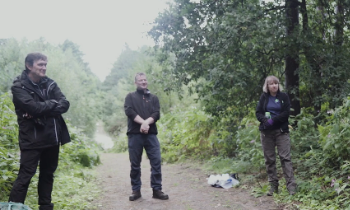 Return to Volunteering
Miner2Major volunteering was paused in March in line with Government guidance surrounding Covid-19. We have taken the first steps to reintroducing volunteering, working with our key delivery partners.
We are aware that some volunteers are keen to get out, but others may be nervous. We are being cautious with our approach, creating an environment that ensures the safety and wellbeing of everyone.
We have trialled how group volunteering might work by taking a small group of the Miner2Major team and partners to Intake Wood to carry out some balsam control work. You can view a short film that explains some of the steps we are taking.
Whilst the situation is changing regularly, we will continue to put the safety of volunteers first.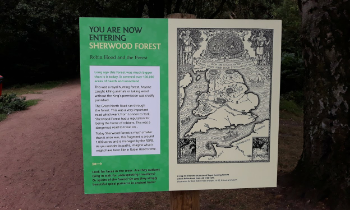 Sherwood Retold
The Miner2Major team are partnering with Nottingham Trent University to deliver the exciting Sherwood Retold project.
Sherwood Retold will map what the stories of Sherwood's heritage and nature and work with local organisations and communities to develop a creative content approach. 
We need your help! Please send us images of interpretation and where you found (or experienced) it. You can contact the team or tag Miner2Major and #SherwoodRetold on social media.
Interpretation can take many forms, such as interpretation boards, tours, sculptures and plaques.